Admin
This user hasn't shared any profile information
Posts by Admin
1151
NorCalREIA presents John Schaub
It just keeps getting BIGGER and BETTER.
There were over 100 investors last meeting!
"How to retire sooner, with more"
 John Schaub  Author of Building Wealth One House at a Time
Do you want to retire in style while you are young enough to enjoy it?  How you invest today will determine when and how you retire. Regardless of your age, this plan will work for you. Visit www.JohnSchaub.com
     Topics include:
Knowing how much you need and having a plan to get it
Investing to produce the cash flow you want
When to sell, what to sell first, and how to sell
Personal Residence Strategies
Rules to help you avoid making the wrong investments
Protecting your assets from others and from yourself
Proven retirement plan investment strategies
Forming your succession plan to insure your money lasts longer than you do
Learn Why Your RETIREMENT Position is More Critical Than Ever.
Second Wednesday July 9th at 7 pm
Join us for the Meeting Before The Meeting – 5:30pm–6:15 Networking – 6:15–7:00
David Granzella
Founder Since 2004
NorCalREIA – Celebrating 10 years 
Northern California Real Estate Investment Association
www.NorCalREIA.com
O: 916.791.8322
C: 916.223.5564
9428
NorCalREIApresents Sean O'Toole
One of our LARGEST meetings of the year!
"Market Update and Buying Right"
Learn Why Your Investment Position in 2014 is More Critical Than Ever.
Second Wednesday June 11

th

at 7 pm
Join us for the Meeting Before The Meeting – 5:30pm – 6:30
FREE Hands-On PropertyRadar Workshop!
Do you understand the current housing climate and how we got here?
Want to know what lies ahead? 
Join NorCalREIA and Sean O'Toole to unveil key indicators and tipping points that foretell what lies ahead for California real estate investors.
"Sean road the tech bubble in the 90s, then sold all of his stocks at the end 99 before the crash. 
He then bought gold in 2002 and road the real estate bubble until 2005 when he sold all of his properties before the bubble burst.
Sean saw the coming wave of foreclosures before anyone else and launched ForeclosureRadar, which grew to be the top information service in the country and was featured on 60 minutes. 
Sean then shorted the market in Sept 2008, and correctly predicted there would be NO wave of foreclosures in 2009 when everyone else said it was coming. Sean launched PropertyRadar in 2013."
Sean O'Toole successfully purchased and flipped more than 150 residential and commercial foreclosures before launching PropertyRadar. Leveraging 15 years in the software industry, Sean used technology as a key competitive advantage to build his successful real estate investment track record. At this meeting you will learn:
Market Update for Investors

Buying Right – The Best Deals

Reducing Risk
Managing Time

How to Find Opportunities Today
Discover if we going to fall off a cliff or make millions? Exactly how should California Real Estate investors be prepared for an explosion in investment opportunities, a serious drought or more appreciation in 2014?  Sean O' Toole, PropertyRadar CEO explains why investors need to carefully watch trigger points that could blow up the economy and everything we believe about smart investing.
Learn how 2013 set the stage for 2014, which economic scenarios could unfold and what real estate investors absolutely must do to be prepared to make money and reduce risk. Learn new angles and how to leverage data like you've never thought possible, or even a good idea.
This incredibly important presentation that could seriously make the difference in boom or bust for your own financial outlook in 2014.

Second Wednesday June 11th, 2014
"Market Update and Buying Right"
Presented by Sean O'Toole, PropertyRadar
Join us for the Meeting Before The Meeting – 5:30pm – 6:30
FREE Hands-On PropertyRadar Workshop!
Come early, bring your Tablet or laptop and we'll do live searches for investment deals using PropertyRadar. You won't want to miss this opportunity to learn directly from the CEO Sean O'Toole!
9893
NorCalREIA Monthly Meeting Wednesday May 14th, 2014
Where is today's market going?
2014 State of the Union for The Individual Real Estate Investor
What is going on around us?
What issues are we facing?
Where will the opportunities be this year?
What should you be aware of?
Plus – How do we deal with Dodd-Frank It's here, it's restrictive and it's frightening.
New Harmful Legislation for the Individual Investor we must be aware of…
Join us for this insightful and timely discussion.
Michael Morrongiello is an active investor who specializes in Real Estate & Real Estate "Paper" investments.
Widely known as having one of the most knowledgeable & creative minds in the paper business, Michael
started creating paper as a result of his own Real Estate investment activities in the early 1980's. He is
very active in the Buy/Sell renovation business of properties here in the SF Bay Area. He creates his deals
through his own marketing. Michael is the founder of www.BAWB.info
Meeting Time:
5:30-6:15 meeting before the meeting
6:15-7:00 networking
7:00-9:00 meeting
9:00-10:00 networking
Meeting Location:
Crowne Plaza 5321 Date Ave
Sacramento, CA 95841 916.338.5800
(Off I-80 at Madison Ave)
This meeting is FREE to members and
$25 for non-members.
Annual membership
$170.00 and $250.00 for couples.
All are Welcome to Attend!
8157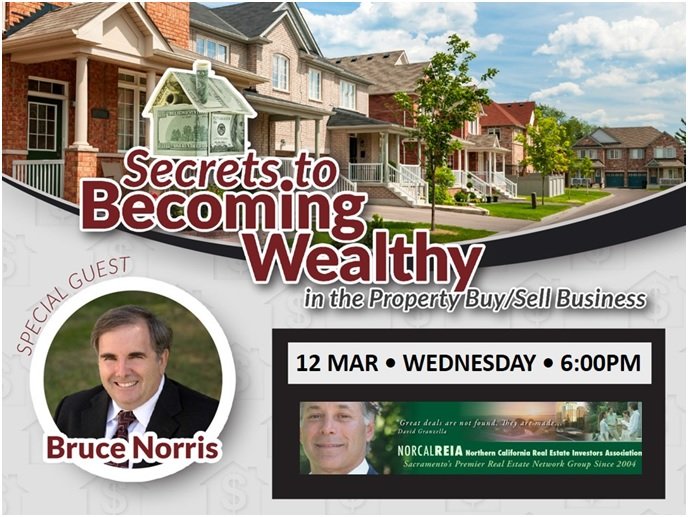 Join us and over 100 investors on the Second Wednesday, March 12th for NorCalREIA's meeting where you can learn to both manage and increase your wealth. And who better to learn it from than the real estate guru himself: Bruce Norris will discuss:
• Changing your results by changing your attitude
• The importance of being sophisticated and how this is beneficial for growth
• Maximizing your profits by increasing your exposure
• Creating a wealth team
• Becoming a successful business owner
You do not want to miss this event. Bruce Norris has over 30 years of experience in the real estate business and has successfully done over 2,000 real estate transactions. With this knowledge and experience, Bruce has passed this knowledge on and helped so many in California to succeed in their business.
At the NorCalREIA Real Estate Investors Association, investors have the chance to meet and network with over 100 other investors in the area. Here you have the chance to get your questions answered and discuss investing with others just like you. Save your seat register at www.NorCalREIA.com
Admin's RSS Feed